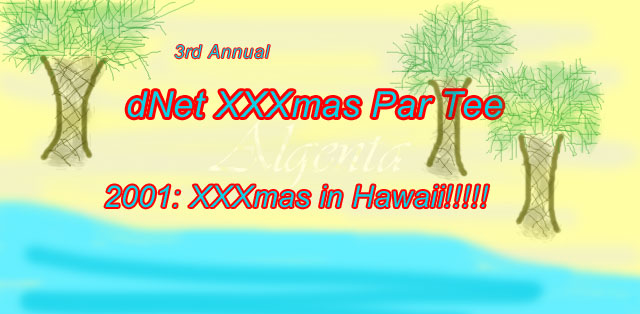 Mele Kalikimaka is the thing to say
On a bright Hawaiian Christmas Day
That's the island greeting that we send to you
From the land where palm trees sway
Here we know that Christmas will be green and bright
The sun to shine by day and all the stars at night
Mele Kalikimaka is Hawaii's way
To say "Merry Christmas to you."

That's right! It is again time for the annual dNet XXXmas par tee! The one time of year when the entire dNet family gets together to celebrate! Ok, now that isn't quite true, we actually do a lot of celebrating all year long, but XXXmas is one GREAT excuse for a party!!
This year the dNet XXXmas party will be in Hawaii!!! YEAH! Sand, beaches, babes (guys for you ladies in the crowd), blue skies, and perfect weather! Well, ok not really, it is at the Johnson house, but we are having a Hawaiian theme this year!!
"Oh, and remember, next Friday is Hawaiian shirt day. So, you know, if you want to go ahead and wear a Hawaiian shirt and jeans." -- Bill Lumburgh [hear it!]
So go ahead and wear your Hawaiian shirts, bikinis, sun glasses, sandals, and hats cause it will be a blast!
On the beach this year, we have:
XXXmas presents (and cookies i hear) from the MN dNet Branch office!
A speech by a top Algenta executive
Everybody is going to get "Lei'ed"
Best Dressed Contest!!!! With a PRIZE!
A pig roast!
Hawaiian drinks and Mele Kalikimaka punch!!
Hawaiian foods!
A live performance from the band "slippery when wet"!
A secret Hawaiian video supplied by the holz
Eggnog! (tis the season!)
A "Mystery Activity" that ISN'T line dancing and is fun!
Hula Contest!
Mele Kalikimaka (XXXmas in Hawaii) will be playing!
Vital Stats:
They are called "vital" because you have to know these to get there!!
Location: Johnson House in Hawaii
Date: December 28th 2001
Time: 5pm
What to bring: Yourselves wearing Hawaiian shirts, bikinis, sun glasses, sandals, and hats!
See you all there!! and Mele Kalikimaka!!!
Dan
p.s. - is what the alphabet would look like without Q and aRRRR! (it never gets old!)
p.s.s - (The pictures will be posted here after they are developed)